We might not be able to stop our children from sticking their fingers in the toaster. We might not be able to stop them from putting a knife in the power outlet. We might not be able to have them understand why certain things are bad for them, and we might not be able to stop them from placing their hands on the red hot stove. But we can always give them a band aid and kiss it better and tell them they shouldn't do it again. Sometimes they listen, Sometimes they don't.
But just like that bright red on the stove, which is interesting and unknown to them, so is sin. Something about it seems to attract us to it. Our Father in Heaven repeatedly tells us, Don't do this...Don't do that. He also has told us repeatedly, DO this, DO that, and DO them all the time, not just when you feel like it.
Again, like the red hot stove, when we sin we must take the consequence. Sin brings Spiritual pain. The only band aid strong enough to help is the Atonement of Christ. He can kiss it better, and wipe away the tears. But we have to be DOing what He has told us to DO in order for the Atonement to have any effect.
This is the method of us being Delivered from sin by Jesus Christ. When we are obedient we receive blessings. When we sin we we lose those blessings, and things always turn into problems because of our choices.
However, when the Children of Israel were in bondage in Egypt, the Lord raised up a Deliverer for them. This came after they had Prayed and asked for His help in their afflictions.
from the midst of thee,
of thy brethren, like unto me;
unto him ye shall hearken;"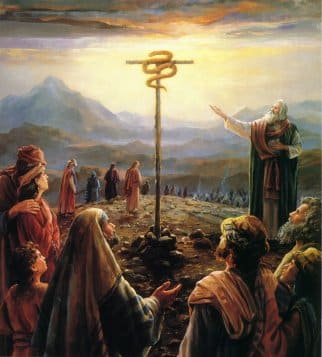 Moses was sent to redeem, or save, his people from slavery to the Egyptians. Jesus Christ came to redeem and save all people from slavery to sin, and the bondage of the devil.
"And I,
Through Jesus Christ we are able to repent of our sins, and then receive forgiveness. He was raised up to be our Deliverer. We must do our part, for the Atonement to have effect in our lives. We have to be full of good works and righteous actions, or we will stand before the Judgement bar knowing that we have sinned and cannot enter the Kingdom of Heaven.
therefore, according to the power of the Father
I will draw all men unto me,
both limb and joint shall be restored
to its proper frame,
even as we now are at this time;
and we shall be brought to stand before God,
knowing even as we know now,